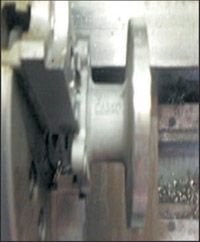 CNC Machining Shop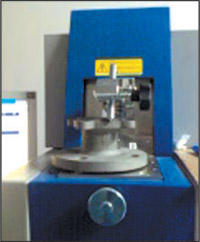 Spectrometer for Material Test
We are having in house latest equipments for manufacturing, measuring and testing of Valve in accordance to international standard. We are having Spectrometer in our foundry division for maintained metal chemical properties. We are having CNC Machine for better dimensional accuracy & Bulk Production. Our manufacturing technologies in product development and production of valve with continuous upgrades in our design, testing, quality assurance with assured short delivery time.
Capacity :
We are capable to manufacture all type of industrial valves from size ranging from ¼" to 36". Our annum Production Capacity is 50,000 Nos of Valve/NRV/Sight glass.
Testing facility :
We are having testing facility for pneumatic and hydraulic testing. All the valves are 100% strictly tested at the required pressure as per international standard and every Lot / heat of Castings are 100 % tested by spectrometer to maintained chemical composition.
Our Commitment :
CASCO Valves has been commitment for prompt delivery and timely supply with economic rate. Product supplied by us is 100 % inter changeability of components of valve. We also ensure to have minimum torque required to operate the valves.
We are having experienced engineer for proper selection of materials, increase the life of valves etc, we are essentially an engineering company which manufactures valves specific to your application needs. We also manufacture valves as per client special requirement like extended steam, Triclover End Valve, fire safe design, actuator mounting Pad or Gland type valves etc.
The Company's has support from Group Companies:
M/s. CASTECH ENGINEERING COMPANY : An ISO 9001:2008 Certified Company manufacturer & supplier of machined / un machined investment castings, Dies / tools for castings, Steel assembly, Valves & valves Parts, NRV, Strainer, Side Flow Indicator, etc. in Stainless Steel (CF8, CF8M, CF3, CF3M, CA-15, CA-40, CN7M, SS 304, SS 316, SS 410, SS 420, 17.4Ph, CB7Cu1), Carbon Steel (WCB, EN-8, EN-9, EN-36, SAE 8620, EN-19) and alloy steel metal as per Customer requirement. (Visit us at www.castech.co.in)
M/s. FLOWSEAL INDUSTRIES : An ISO 9001:2008 Certified Company manufacturer of "FLOWSEAL" brand Non Return Valve (NRV), Disc Check Valve, Non Slam Check Valves, Wafer Check Valve and Steam Traps etc.